April 28, 2018: Housing Resource Fair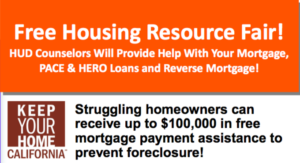 Struggling homeowners can receive up to $100,000 in free mortgage payment assistance to prevent foreclosure!
Don't Miss this FREE opportunity to meet with nonprofit HUD Approved Housing Counselors to:
Apply for KYHC Principal Reduction Program – up to $100,000
Learn About Unemployment Mortgage Assistance – up to$3,000 per month (Bring Your EDD Benefits Stub & Award Letter)
Learn About Loan Mods, Refinancing and Reverse Mortgages
Improve Your Credit & Develop a Spending Plan
Get More Info on PACE & Hero Loans and Tax Issues
Prevent Real Estate Scams and Fraud!
Ask Your Questions & Meet with a HUD Housing Counselor!
DATE: 9am to 12pm on Saturday, April 28, 2018
LOCATION: Lakeview Senior Center 20 Lake Drive, Irvine, CA
RSVP: Online at Eventbrite.com:
https://ochomehelp.eventbrite.com
Workshop Agenda
9-9:30am- Learn How to Apply for KYHC Programs, Loan
Workouts and Ways to Improve Your Credit 9:30-9:45am- Reverse Mortgage & Tax Info 9:45-10am- Preventing Real Estate Scams & Fraud 10-10:30am- Help with PACE & HERO Loans and more nonprofit housing services!
For Detailed Event Flyer, click here.