Aiding and Supporting Victims of Crime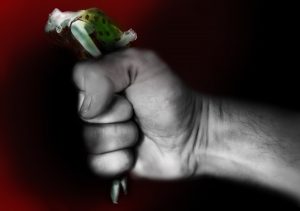 Shortly after a successful restraining order hearing, our client Maria (name changed) received an email from an unknown Gmail account. In the email she was shocked to see a nude photograph of herself with a message from the sender that thanked her for submitting the photo to their website. The message went on to say she could email them directly if she was interested in providing more content.
Maria had become the victim of a form of abuse that could reach her after the physical and verbal abuse she suffered under her former boyfriend Raul (name changed) had ended. This time she was a victim of a crime that our advocates have come to see more and more often in this digital age – cyber abuse.
Having been represented by CLA SoCal for her restraining order and child custody case through services funded through a grant from California Governor's Office of Emergency Services (Cal OES) to serve victims of crime, Maria immediately reached out to Cal OES project attorney Suni Serena Ramirez.  Fearful that Raul was responsible and that he had shared intimate photos of her online, she was desperate for help.
Thankfully, with the technological assistance of the staff of our Cal OES grant partner Laura's House, Maria was able to use the photograph she received to digitally "sweep" the internet.  She was relieved to discover that the photo had not actually been posted anywhere online.  However, since the identity of the sender was still not established, she feared future attempts at postings.  We are currently working with authorities in an investigation that could lead to criminal charges against the sender of the email, who we strongly suspect will be found to be Raul.
Our ability to assist Maria with securing the restraining order, custody of her child, and then addressing the cyber abuse was made possible through the funding we receive under the Cal OES grant.  The Cal OES grant allows us to provide holistic wraparound services to victims of crimes like domestic violence, sexual assault, civil harassment, stranger violence.
With the support of this funding, our advocates can provide full representation in cases which have the most potential for serious adverse effect upon the individuals involved and where representation is likely to affect the outcome of the case.
Most clients come to us through a referral from one of our partner agencies under the grant, like Laura's House.  The agencies address the social services needs of the client, including counseling and safety planning.
On a weekly basis the project paralegal receives the referrals from our partners and calls each client within 72 hours.  She normally receives between 8 to 14 referrals each week.  Approximately 80% of them are first time referrals and about 20% are returns.
The project paralegal assesses the client's legal needs, starting with the violent act perpetrated on them and then determines if they may need any further legal assistance.  She creates the legal roadmap for the client. As part of the wraparound services allowed through the grant, the additional legal assistance can include immigration (through a U Visa or under the Violence Against Women Act), housing and conservatorships. These additional legal needs must be connected to the violence the clients have suffered.
If it is established that a client needs representation and would like to move forward, he or she is set for an appointment with the project attorney, Suni Serena.  If after a "legal check-up" there is a need for wraparound services, Suni Serena brings in the appropriate CLA SoCal staff attorney.
It is the goal of advocates of the Cal OES project to help our clients resolve their legal issues so they can stabilize their lives and go on to live without any ties to their abuser(s).  In the time period between January and March of this year, the Cal OES project advocates helped 186 clients towards this end. They are dedicated to assisting their clients from start to finish and sometimes another start and finish, as was the case with Maria.