From Tumult to a New Life
A Family Law Story by Priscilla Carmona, Paralegal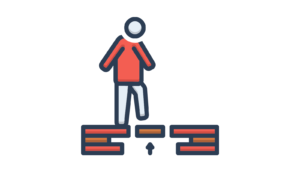 Charlotte (fictitious name) sought help from CLA SoCal to legally end her marriage and gain sole legal and sole physical custody without visitation of her three-year-old daughter, Eleanor (fictitious name). It was clear our client had gone through a tumultuous relationship with her husband, Derek (fictitious name), and was ready to close this difficult chapter of her life.
Living in discord
Charlotte's main concern was the welfare of her young daughter. By the time Charlotte (who was 29 years old at intake) came to CLA SoCal, she and her daughter had experienced three years of a discordant, violent family life caused by her husband, from whom she was separated.
She stated that before leaving Derek, his alcoholism and drug addiction had worsened throughout their marriage. He was on a continual spin, and numerous attempts at rehab were unsuccessful. To her knowledge, he had been arrested more than 70 times.
Derek's manipulative and abusive behavior was egregious. He verbally abused and physically threatened Charlotte in front of their daughter by throwing things that ranged from Eleanor's toys to a television set. During one of his outbursts, Charlotte was distressed to hear their daughter mimicking what he was yelling.
On one occasion, Derek pinned Charlotte down and choked her. She managed to get free and fled with Eleanor to a neighbor's home to call the police. He was subsequently arrested for this domestic dispute. After another violent incident in 2018, he left the apartment and drove away drunk even though his license was suspended.
The police arrested Derek and issued Charlotte and Eleanor an emergency protective order. After this incident, their landlord refused to renew their lease due to the multiple disturbances and noise complaints. She finally had enough and moved with Eleanor into her father's home.
Leaving and striving for civility
After Charlotte left Derek, he lived out of his van and, besides short jobs flipping cars, was unemployed. She noted that he continued to prioritize substance abuse over helping raise Eleanor. Any money he earned supported his drug addiction and never made its way to financially supporting his daughter.
She tried to reason with Derek at the beginning of their separation. She tried to work out supervised visits which were scheduled around Eleanor's extracurricular activities.  At our initial intake, she was still willing to conduct these supervised visits.
Alarming development
However, while I was preparing the petition and declaration for supervised visits, she contacted me after a phone call with Derek left her very shaken. He had threatened to take his life with his gun. She called the police to conduct a wellness check on him.
Alarmed by the new-found knowledge that he possessed a firearm and was threatening to use it on himself, Charlotte no longer felt safe with the supervised visitation request in her petition. She decided to revise her request to "no visitation" to Derek until he showed efforts to remain sober and stabilize his life.
Deciding for divorce
I helped her with her petition for divorce wherein she requested sole legal custody and sole physical custody of Eleanor with no visits to Derek. By this time, she had been separated from Derek for a year and a half and was eager to further stabilize her life by taking this next step.
I prepared the petition, preliminary declaration of disclosure and a detailed declaration for no visitation under the supervision of the family law supervising attorney, Yolanda Omana, and reviewed the paperwork with Charlotte. We met in person three times before the COVID-19 pandemic started. All other subsequent communication and work was done through telephone and email.
Throughout the preparatory stage of the initial paperwork, Charlotte and I also brainstormed on how to get Derek personally served. Since he was living out of his van, she did not have a good address to serve him at; however, shortly after she filed her dissolution paperwork, she contacted me, and stated Derek violated his parole and would be held at the Theo Lacy Facility for the next 60 days.
We immediately prepared sheriff service instructions and sent the service packet to the sheriff who could easily serve Derek in jail. We were able to take his default a little over a month after service was effectuated because he failed to timely respond to the petition.
Delayed by the pandemic
During our final in-person meeting, Charlotte and I prepared the proposed Default Judgment which she subsequently dropped off at the court. Unfortunately, her default hearing date was set on the day the court closed due to the COVID-19 pandemic.
The default hearing, which was meant to take place in March of 2020, was continued several times. Finally, in November 2020, her case was heard, and Charlotte obtained what she wanted—the dissolution of her marriage and full custody of Eleanor with no visitation to Derek.
Served and settled
We again thought we would have trouble serving Derek with the final orders contained in the Judgment; however, he was arrested around the time the Judgment for Dissolution was entered. I assisted with mail serving the Judgment to him in jail and at his mailing address, his mother's house.
With the case settled and her ties to Derek finally legally severed, Charlotte was free to completely move on with her life, which I am pleased to say she has done. Today, she and Eleanor are living in another state and are well on their way to creating a new and more healthy family life together.