Holistic Support, Legal + Case Management
Featuring the work of Griselda Sierra, Case Manager
When Dorinda (a fictious name) came to Community Legal Aid SoCal, she was a survivor of domestic violence and needed our help with filing for a divorce and an adjusting her immigration status. While her advocates were working on these cases, the COVID-19 pandemic hit and before long she found herself without work and in need of assistance from CLA SoCal case management services, part of the program's holistic approach to lawyering.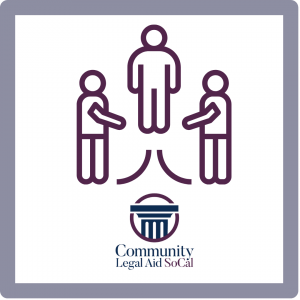 A recipient of public assistance for her two U.S. born children from LA County's CalWORKS program and separated from her abusive husband, Dorinda worked as a nanny to support herself and her children. Unfortunately, due to the pandemic, her employers decided to let her go.
Pivoting
Trying to pivot and find new work as quickly as she could, she contacted her former employer, a restaurant, hoping they could hire her back. This proved unsuccessful as the eatery had closed, a casualty of the pandemic.
Dorinda found herself out of work, in a pandemic, while she was still dealing with the weight of her immigration case and a divorce from a husband who had attempted to continue to abuse her by showing up at her home, once even breaking in by smashing her windows.
Support arrives
In response to Dorinda's situation, her legal advocates referred her to CLA SoCal case manager Griselda Sierra for guidance and support with applying for assistance. Griselda quickly built a rapport with her and put her in touch with a short-term program through the DPH CARES Acts that provided survivors of domestic violence with gift cards for essential services and goods, like transportation and comestibles.
In December, Dorinda contacted Griselda desperate for help, she was in a financial corner. Still unable to find employment, she did not have enough money to pay rent for January. After some research, Griselda put her in touch with community resources to receive rental assistance. Unfortunately, when Dorinda contacted them, they told her she was ineligible for assistance because of her undocumented immigration status.
Pivoting again
Looking for other avenues Dorinda could get assistance, Griselda encouraged her to reach out to her CalWORKs (county) case worker to find out if she might qualify for additional support because of her radically changed circumstances. At the same time, Griselda continued to search for rental assistance programs that would help Dorinda.
She found out that through 211 Los Angeles County Dorinda could enroll in the LA County COVID-19 Rent Relief notification system. Once enrolled, the notification system would send either an email or text message to Dorinda to let her know when she could apply for rental assistance.
Resolution
Relieved that rental assistance would be soon at hand, Dorinda expressed her gratitude for the continued case management support Griselda offered her. Although she is still waiting for the resolution of her immigration matter and her divorce to be finalized, she is reassured that she has the holistic support, legal to case management, she needs to move through this period in her life.