Legal Aid for a Family of Survivors — Domestic Violence and COVID-19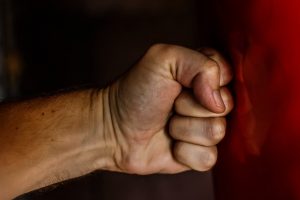 Zehra (name changed) silently suffered years of abuse at the hands of her husband Ahmet (name changed) until past April, in the first weeks of the COVID-19 pandemic. She had enough and, with the assistance of her daughter, Zehra called Community Legal Aid SoCal's (CLA SoCal) Hotline for help with obtaining a restraining order.
CLA SoCal paralegal Marie Mizokami contacted Zehra to prepare the restraining order. With her 29-year-old daughter Miray (name changed) acting as translator, Marie learned in the first few minutes of the phone call that the abuse was quite substantial. Zehra and her adult children endured years of power and control from the perpetrator, Ahmet. It took so long to obtain the information needed for the pleadings, that Marie scheduled a follow up to prepare the declaration.
In the follow-up appointment, Marie interviewed Zehra for a little more than two and a half hours as she wrote her declaration detailing more than twenty years of abuse. Zehra and Ahmet moved from Turkey to the United States in 2001. Although Ahmet was aggressive toward her in Turkey, the physical abuse did not start until they came to the United States.
Ahmet isolated Zehra and prevented her from associating with anyone outside of their family. He went so far as to make the family believe that the CIA was following them by claiming he was a Turkish intelligence officer and the CIA was following him to get him. Ahmet pointed out homeless people in their cars and claimed that they were CIA agents and told the family that the CIA was listening to all their phone calls, which made them paranoid. He forced Zehra to take out what she figures is at least $60,000 in loans for him.
Zehra is well-educated and worked as a dentist in Turkey. Although she had lived in the United States for nearly twenty years, she speaks limited English. She wanted to learn English and tried to find classes through churches and other organizations, but Ahmet belittled and made fun of her, forcing her to quit.
Zehra tried to study so she could obtain her dental license. Ahmet threw away her study materials and told her that her only job was to "take care of the kids and me." He forced Zehra to work in his dental office for ten years only paying her for about two years of work. If she ever tried to speak to the patients, he yelled at her.
For the past seven years, Zehra suffered martial rape two or three times a month. If Ahmet was angry about anything, he took it out on Zehra by punching, kicking, and throwing things at her. On one occasion, he pulled a knife on her and threatened to kill her. Although in the past police were called, Zehra never disclosed the abuse out of fear that her children would be taken from her care.
In the last incident of physical abuse this past April, Ahmet became angry and started screaming at Zehra. He repeatedly punched her arm. She tried to run away, but he followed and continued to punch and kick her when he could not reach her with his fist. Miray tried to intervene and Ahmet reacted by approaching her as if he would attack her. Miray slapped him in self-defense and left the fight. Their 25-year-old son, Hakan (name changed) got in between his parents and was punched and hit.
Ahmet suddenly stopped and said he was going to call the police to have them take Hakan to a mental hospital. When the police arrived, everyone was interviewed. Zehra chose not to have her husband arrested because she feared he would contract COVID-19 in jail.
Later that night, Zehra overheard Ahmet on the phone saying, "I'm going to shoot my son in both knees so he becomes a paraplegic. They don't know who I really am. They are going to find out who I am."
Miray called the police the following morning. The officers gave Zehra an Emergency Protective Order that protected her, her son, and her daughter until May 5, 2020. Ahmet was served with the Emergency Protective Order and has not been home.
Once the declaration and forms were done, another CLA SoCal paralegal filed the restraining order. Complications caused a bit of a delay; however, the paralegal was able to electronically file the restraining order for Zehra.
The temporary restraining order was granted, protecting Zehra and her son and daughter with a move-out order for Ahmet. The hearing for a restraining order is set for July 2020. Although Marie and the Family Law Unit team do not know the ultimate outcome, they are hopeful Zehra will be able to obtain the restraining order and continue the journey to healing in safety.