Making an Impact for the Homeless Population of Orange County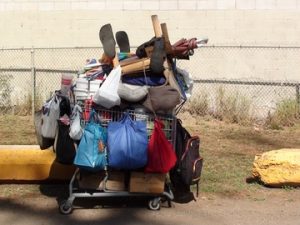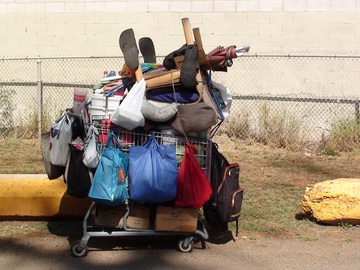 Our region's unsheltered population has risen over the past several years, with homeless encampments springing up beneath overpasses, near abandoned buildings and along culverts. As cities cracked down on these encampments, surviving encampments swelled with new arrivals. In 2018, the County of Orange sought to evict individuals residing in one of the County's largest encampments, along the Santa Ana Riverbed. An increasingly contentious and public fight over the space resulted in an effort by the County to eradicate the camp without a plan in place to house the newly evicted.
As a result of lawsuits filed on behalf of homeless clients against the County by Community Legal Aid SoCal (CLA SoCal) and others, the presiding judge ordered the County to find temporary housing for the Riverbed residents; the County located homeless residents in local motels for 30 days after removing televisions, linens, telephones and shower curtains. The case became increasingly tense as bureaucrats failed to develop a plan even after the passage of the thirty days. One of CLA SoCal's clients, a rape survivor who lived on the streets for more than ten years, said that this episode has been the most traumatic of her life.
CLA SoCal's Complex Litigation Unit and co-counsel from a national firm began representing homeless individuals with disabilities who lived at the Riverbed. Like many chronically homeless, most of CLA SoCal's clients had lived on the streets for years, and suffered from mental illness, post-traumatic stress disorder, and physical ailments.
Evictions began in late January 2018 in cold, rainy weather. In response to the evictions, Legal Aid and its co-counsel filed a lawsuit in federal Court in early February. The suit focused on civil rights violations under the Fourteenth Amendment as well as violations of the Americans with Disabilities Act that arose from the County's failure to accommodate the disabilities presented by our clients. Another key argument in its suit was that the County was withholding funds specifically allocated for mental health services. CLA SoCal's lawsuit was filed soon after the County was served with another federal lawsuit on behalf of unsheltered homeless residents with counsel from local civil rights law firms, relating to violations of those residents' Eighth Amendment rights.
Eight months after the eviction, a settlement in principle was reached by CLA SoCal and its co-counsel with the County, and settlement efforts remain ongoing. In addition, as a result of pressure from the litigation, the County Board of Supervisors has taken several votes to release previously unspent funds for homeless and mental health services, including a May 2019 vote to release $85 million in funding for mental health services, with $70 million directed towards helping homeless individuals with mental illness.
This case was groundbreaking in identifying the role that trauma and mental health play in making housing options accessible to the unsheltered homeless community in Orange County and the reasons for homeless individuals' inability to access the County's programs and services. The lawsuits brought by CLA SoCal and other nonprofit entities have had a tangible impact on the homeless population of the County. As a result of Court orders, cities are opening new shelters and looking for new ways to provide sustainable, long-term housing options for their lowest-income residents. CLA SoCal's efforts have ensured that the rights of thousands of mentally and physically disabled residents who lack stable shelter will be taken into account when cities provide programs and services to ameliorate homelessness.