Supporting Success in Foster Youth
By Abigail Resendiz-Zuñiga, CLA SoCal Case Manager
As a youth in Orange County's foster care system, Maria Elena (fictious name) took a big step towards investing in her future wellbeing when she decided to accept case management services with me at Community Legal Aid SoCal (CLA SoCal).
There were difficulties in Maria Elena's family life which caused a finding of general neglect and her eventual placement in the foster care system for two years. She is one of four children and was a small child when she accompanied her mother on the journey to settle in the U.S. from Mexico. In fact, she was so young that sh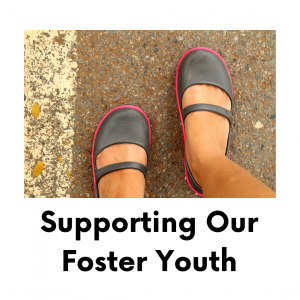 e has no recollection of life in Mexico. Like so many people who came as children, the U.S. is the only country she has ever known.
By seeking CLA SoCal's assistance with obtaining legal immigration status while in foster care and just starting her senior year in high school, she showed a mettle and a willingness to take proactive action on her own behalf. As her legal team began to assist her with obtaining Special Immigrant Juvenile Status, she elected to participate in case management. Case management is an important part of the holistic, trauma-informed, and trauma-responsive approach to serving clients practiced at CLA SoCal. My work, and that of the other case managers on staff, has become integral to the services our legal aid program offers to clients.
I began my case management services with Maria Elena by assisting her in her desire to attend college. It was her dream and goal to earn a college degree and I supported her aspiration by aiding her with the application process for financial aid, the Dream Act of California, and a California CHAFEE grant. The CHAFEE grant specifically supports foster care youth between the ages of 16 and 19 who have financial needs, like Maria Elena, by granting recipients up to $5,000 a year to attend college or to pursue career and technical training.
After the flurry of filing the applications, I did not hear from Maria Elena and became concerned. When we finally reconnected, I learned she no longer had access to a telephone, making it difficult to contact me. The phone she'd been using was provided by her high school and she had to return it when she graduated.
With our case manager/client relationship re-established, I assisted her with her transition to community college. I connected her to the Guardian Scholars program at the school, a comprehensive program with the goal of supporting former foster youth in their efforts to gain a college education. I also helped her apply for additional funding for books and for a cell phone, an essential for a college student in these times.
Taking on the transition from high school to college as a former foster care youth who is seeking to adjust her immigration status is not easy, particularly during a pandemic and at a tumultuous and acrimonious time in our country. Nevertheless, through the past nine months, I have witnessed how much she has grown, how resilient she is, and how well she has done despite the challenges she is up against. It is good to see her efforts to seek support have been rewarded and I am pleased to share she has received the following awards: An Orangewood Scholarship, a textbook scholarship, and a cell phone from iFoster.
Now well into her first semester as a college student, Maria Elena is reunited with her mother and family. She has expressed to me that her ultimate goal is to give back to her community. She is excited to begin working towards a career as a nurse and looks forward to a change in her immigration status, which would ensure her ability to follow her path in the community and country she calls home.