Trouble with your Pandemic EBT card (P-EBT) showing a $0 balance? Please read!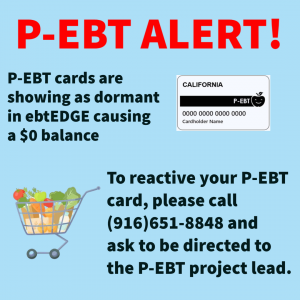 It has been brought to our attention that P-EBT cards not used for 180 days may become dormant. When this happens, the P-EBT card is unable to be used and will show a balance of $0.
Please note, the funds may still in the account when a card is dormant, they may just be unavailable for use and need to be reactivated. For dormant P-EBT cards, please call CDSS and ask to be referred to the P-EBT Project Lead to reactivate the account. The number for CDSS is (916) 651-8848.  CDSS is also working with its P-EBT hotline (877) 328-9677, which might soon be able to help families reactivate their cards.
You can access the P-EBT information page on the CDSS website here.
¿Problema con su tarjeta Pandemia EBT (P-EBT) mostrando un saldo de $0 balance? ¡Por favor lea lo siguiente!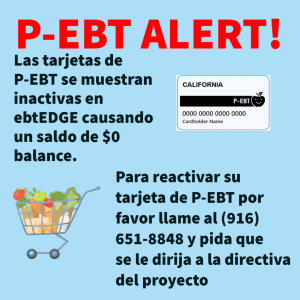 Se ha presentado ante nuestra atención que las tarjetas P EBT no usadas por 180 días pueden volverse inactivas. Cuando esto sucede, la tarjeta de P-EBT no puede ser utilizada y mostrará un saldo de $0 balance. Tenga en cuenta que los fondos pueden estar todavía en la cuenta aun cuando la tarjeta esté inactiva.  Es probable que simplemente no estén disponibles para su uso y deba reactivarse. Para activar las tarjetas P-EBT por favor llame al CDSS y pida ser referido a la Directiva del Proyecto de P-EBT para reactivar su cuenta.  El número de teléfono de CDSS es (916) 651-8848.  CDSS también trabaja con la línea directa de P-EBT (877) 328-9677, la cual pronto estará disponible para ayudar a las familias a reactivar sus tarjetas.
Usted puede tener acceso a la página de internet de información de P-EBT aquí